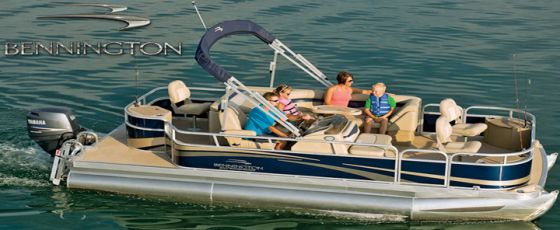 View our current Bennington inventory
When Bennington started in 1997, they had a vision for their company that included a commitment to continuously improve product quality and quality of life...for their customers, their employees, their suppliers, and their dealers. Today they are just as committed to their goals as they were when they wrote their vision statement.
Bennington knows there are some things you cannot compromise, and knowing that their customers are their best asset is among them. At Bennington, customer satisfaction is a must, and they won't compromise the quality that their customers expect. Through word of mouth, dock talk, and the recommendations of friends and family, Bennington has grown to become the most respected name in the pontoon business.
Through hard work, belief in their team and constant innovation Bennington has been honored with more quality and satisfaction awards than any pontoon maker in the industry. They start each day with a management meeting that includes their president and CEO, lead engineer, lead designer, lead production director and lead personnel from their sales and customer service departments. With the exception of the holidays, they haven't missed one in 15 years. That's dedication. That's Bennington Marine.
Bennington offers 52 floor plans in various trim levels, styles and lengths with literally hundreds of available options, so that you can customize a Bennington to fit your specific lifestyle.
View our current Bennington inventory
Compare Bennington Warranties to the competition.
Bennington construction is the best in the business.
Want more information? Call or stop by.