Scroll Down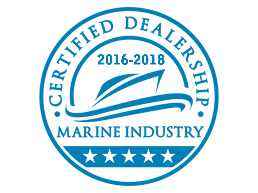 BUYING FROM A MARINE FIVE STAR CERTIFIED DEALER
The Marine Five Star Dealer Certification Program is designed to ensure that buying and maintaining a boat are pleasant experiences. When you visit a Marine Five Star Certified Dealer you can feel confident you are choosing a business that is committed to your satisfaction. You can expect to find:
Friendly, knowledgeable employees
Quality Products
Reliable Service
To become certified, a dealership must demonstrate their commitment to excellence by meeting high standards in key areas:
Operations
Facilities
Professional sales/service processes
Customer satisfaction and employee training/satisfaction
Don's Marine, LLC is proud to be a Marine Five Star Certified Dealer.
Benefits of Buying from a Marine Five Star Certified Dealer
A marine industry Consumer Bill of Rights
Assurance of dealership's commitment to excellence
Guaranteed opportunity for you to provide feedback and resolve issues