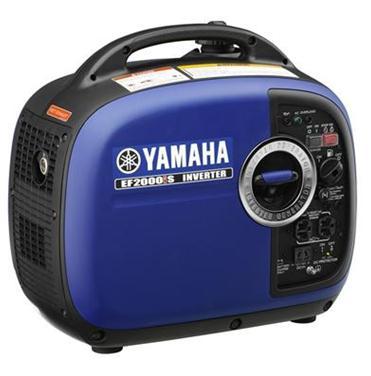 Yamaha Generators
Don's Marine is now a Yamaha Generator Dealer. Whether you need a portable generator for home use, your RV, camping or work, Yamaha has a quiet, fuel efficient model just for you. Yamaha Generators are the ultimate portable generators.
Light Weight - 44 pounds - easy to move, transport and store.
Super-quiet muffler with USFS-approved Spark Arrestor
- Only 51.5 dBA at 1/4 load and eliminates errant sparks.
Legal for sale in all 50 states - Meets CARB emission regulations.
Compact - 2.2 cu.ft. easy to store and transport.
TwinTech™ capability - Hook up two EF2000iS's for 3600 watts of maximum power.
Extended Engine Emission Life Rating - Longest engine emission life rating issued by EPA.
OHV engine with cast iron cylinder liner - Efficient, reliable, powerful providing long life and excellent heat dissipation.
Smart Throttle™ varies engine speed based on load - Improves fuel economy and reduces noise.
Inverter system with Pulse Width Modulation (PWM) control - Can run products with built-in microcomputers or microcomputer-controlled electric tools.
Gasoline petcock - Helps prevent carburetor contamination during storage.
OilWatch warning system - Prevents engine damage and provides added peace of mind.
Fuel gauge - Ability to gauge fuel level without opening cap.
Auto Warm Up - Increases engine speed during cold starts to handle high power demand appliances right away.
Auto-decompression system - Reduces compression for easier starting.
Comfortable grip handles - Easy portability and storage.
Electrical overload breaker - Prevents generator damage in case of overload.
Controls all on one panel - Easy access to controls.
DC outlet - 8A12V outlet for charging batteries (cables included).
Rubber vibration isolation feet - Absorbing feet for increased smooth operation and noise reduction.
Easily detachable side panels - For easier serviceability.
Noise Block™ sound reduction system - Very quiet.