MERCURY MOTORS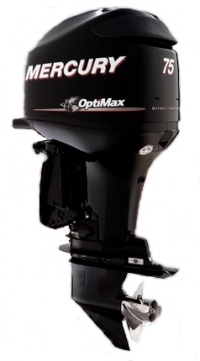 What type of engine do you need? Two-stroke? Four-stroke? With Mercury, there is no wrong answer. Different boats demand different engines. While their competitors typically offer only one technology, Mercury has perfected them all. That's the Mercury Advantage. Mercury is proud to offer the marine industry's most comprehensive, leading-edge lines of two-stroke and four-stroke engines, led by the supercharged FourStroke Verado.
Four-Stroke Intake. Compression. Power. Exhaust. Those are the stages of a four-cycle combustion. Because every combustion series consists of four discrete stages, four-stroke engines tend to be quieter, smoother, and more fuel-efficient than two-strokes, all while producing fewer emissions. Four-strokes typically lack the torque, muscle, and overall giddyup of two-stroke engines. But Mercury is not your typical four-stroke manufacturer.
From their sensationally powerful Verado 300-hp, all the way down to their simple 2.5-hp portable, every Mercury four-stroke is smoother, cleaner, quieter, and more dependable than any competitor's engine. Plus, much like their two-strokes, Mercury four-strokes have never lacked in the power department.
Two-Stroke Piston upstroke. Piston downstroke. Two simple strokes that deliver a tone of advantages. With a more concise combustion cycle and less bulk, two-stroke outboards are notorious for their acceleration, throttle response, and superb power-to-weight ratio. But while boaters love the raw power of two-strokes, they historically have been turned off by their lower fuel economy and higher emissions.
But 10 years ago, Mercury designed and engineered OptiMax–a Direct Injection engine that combines the power of a two-stroke with the advantages of a four-stroke. Optimax has the heart, soul, speed, and power of a traditional two-stroke but its unique two-stage injection system creates remarkably complete combustion–which means boaters can have a great time on the water while feeling good about conserving fuel and producing fewer emissions.

Browse our current used inventory of Mercury motors below